Water Balloon Washout
Finish it!
Designed by Rob Couch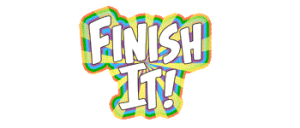 Finish It! is a storytelling game for people who just want to make up silly stories and have fun. The Leader of each round tells the first half of a ridiculous story, setting the stage for a hilarious and seemingly impossible predicament. It's then up to each of the other players to finish that story in the most outrageous way they can, while incorporating certain items into their version.
Only $25.99
https://www.thegamecrafter.com/games/finish-it-the-outrageous-storytelling-party-game
The Rumplebum Academy for Bug-Based Baking
Designed by Rob Couch
A Delicious Memory Game for 2 to 4 Hungry Trolls
Welcome to the Rumplebum Academy for Bug-Based Baking! You have enrolled at the finest culinary school for young Trolls in all the Kingdoms! Under the guidance of Chef Cordelia Rumplebum, you will be taught the fine art of baking delicious foods with only the finest ingredients: crunchy, juicy, savory bugs!
The Rumplebum Academy for Bug-Based Baking is a lighthearted memory and set-collection game. The players are trolls who are going out into the forest to turn over rocks, looking for bugs. They'll use those bugs in the recipes they bake back at the school. But they'd better be careful, because sometimes they'll turn over a Knight who might attack! Then again, they might find a beautiful Princess to help with the next dish.
You can read the rules here:
http://www.buildingthegamepodcast.com/PNP/RumpleRulesFinal.pdf
You can also purchase the game here for only $10.99: